Entries from February 2008 ↓
February 29th, 2008 — Politics, Youtube
I got chills watching this. Very well done:
February 29th, 2008 — Crush
February 28th, 2008 — Music
Jantsen's Whomptronica mix kept me grooving all year in 2006. And now I've got his Gutter Music mix. I think I downloaded it several months ago and just hadn't listened to it. Until this week, that is. Now I can't stop listening to it! OMFG, Gutter Music is even better than Whomptronica! Fuck, dude. I just can't stop bopping and moving and shaking and grooving…
Listen to/download Whomptronica
Listen to/download Gutter Music
February 28th, 2008 — Crush
Holy crap, Stephen Dorff is still smoking hot. This picture (apparently originally from SplashNews) shows him disrobing at an airport security checkpoint. Look at the curve of his ass. Yum!
Maybe you're like, "Who the fuck is Stephen Dorff?" He's the hot badguy vampire in Blade (the first one).
Click through for some hot full frontal screencaps from Dorff's 2006 film Shadowboxer. (NSFW)
February 28th, 2008 — Humor, Politics
LOL. Thanks to Shane for sharing this with me!
In all seriousness, Nader did pick a running mate. He picked Matt Gonzalez, the Green Party candidate who almost beat Gavin Newsom in the race for SF Mayor in 2003.
February 27th, 2008 — American Idol, Music, TV
Imagine is probably my favorite song of all time. No other song sends chills down my spine and makes my heart swell, every time I listen to it. I've appreciated various renditions and remakes over the years. But this 17 year old David Archuleta really blew me away. Wow. I hope he wins Idol this year.

.
February 27th, 2008 — Comics, Humor
This is so me. (The one who stumbles…)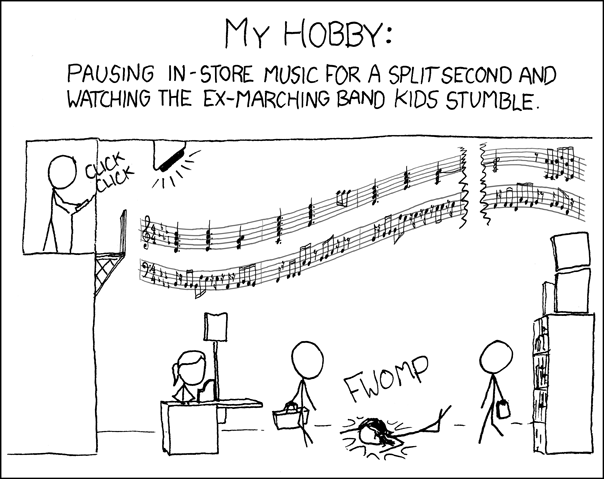 I love XKCD!
February 27th, 2008 — Movies, Youtube
I knew this movie was going to suck. And now Sexman has confirmed it. And who better to listen to regarding the merits of a sci-fi movie than an 11 year old boy?!
February 25th, 2008 — Humor, Politics
Tina Fey is awesome, smart, funny, brilliant, and hot. She made an appearance on the SNL Weekend Update last weekend to discuss feminism and Hillary Clinton's presidential run. A very interesting perspective worth thinking about. Definitely go check it out at Crooks and Liars.
February 25th, 2008 — Humor, Politics
The former Governor of Arkansas was on SNL this weekend, and played funny funny with Seth Meyers. Check it out over at Crooks and Liars.
February 25th, 2008 — Humor
Jimmy Kimmel responds to his girlfriend Sarah Silverman's Fucking Matt Damon.
Sarah's video is much funnier. Kimmel relies on using the word "fucking" about 1,000,000 times to make his funny. It is impressive though, that he got so many big stars to participate. In Kimmel's video: Brad Pitt, Robin Williams, Cameron Diaz, Josh Groban, Meatloaf, Dominic Monaghan, Harrison Ford, Macy Gray, Christina Applegate, Joan Jett, McLovin, Don Cheadle, Rebecca Romijn, Pete Wentz, Perry Farrell, Good Charlotte, Lance Bass, and Huey Lewis.
February 25th, 2008 — Crush
Ok, so maybe not. They just happened to both be at Elton John's party. But they'd make kind of a hot age disparate couple. So fancy, they are.
February 25th, 2008 — Comics, Movies, Superhero Movies
Lene and I saw a 2.5 minute preview for the upcoming Iron Man movie at WonderCon. OMFG. This movie is going to rock. Hard.
And, if you watch LOST every Thursday, don't miss a brand new 1.5 minute Iron Man trailer during the commercial breaks this week!
February 25th, 2008 — Comics
Lene and I took part in the Podcasting Extravaganza this weekend at WonderCon. Much like last year, the discussion mostly consisted of questions about what it's like to podcast, technical issues, and logistical stuff. I don't generally have that much to contribute to these topics since I'm just a guest host. I think of myself as Lene's pretty blonde co-host. Like Kelly is to Regis, or Elisabeth Hasselbeck is to the View. I'm there to look pretty and say dumb things! Which is funny, since our listeners can't actually see the hot blonde stud that I am. Ah well, I guess they'll just have to settle for me making silly comments.
This year I did say a few things during the Extravaganza, as opposed to last year when I barely said a word. I made the crowd laugh when I said that I "gay it up" on the podcast. I also got asked a question by the moderator about what it's like to work with such an amazing and powerful woman. I stumbled through it, but Lene said my answer was good (whew!).
And, how hot is Matt Silady? OMG. So fucking hot.
As for the podcasting panel, at WonderCon, I think the format is getting a little stale. Lene's friends and I were brainstorming some possible new ideas for next year. The two main ones we came up with are:
1) A live audience participation podcasting session. Each of the podcasts should have their own little table (iFanboy, Comic Geek Speak, I Read Comics, Around Comics, etc.). At each table a few fans can sit in with the podcast celebrities (ha!) and podcast on certain topics. They can review new comics, what they think of the Con, etc. Each of the podcasts would record and then post the show to their sites. That would be a great way for newbies to get to be part of the experience. And, it would be fun and interactive.
2) Have one member from each podcast on a panel on Sunday. Then have them record a podcast right there in front of the audience. The panel can review the movie that premiered and/or the party from the night before, the con in general, people they've chatted with so far, etc. People listen to the podcasts because they want to hear about comics. So, give them a chance to see a podcast in action!
February 22nd, 2008 — Politics
This pissed me off. The headline of this article suggests we're going to read about how McCain is hypocritically trying to subvert and/or pull-out of the campaign finance system he created. After the first two introductory paragraphs, the article then spends seven paragraphs on this new "sex scandal" before resuming coverage of the finance issue. DUDE. Get to the fucking important news about McCain and whether or not he truly supports his own campaign finance system. That is the important news! Not whether he did or didn't bang some lobbyist (I'm guessing that he didn't).
The sensationalist gossip mongers (aka the Mainstream Media) only cover what they think will sell. Well guess what?! There are a lot of people in America who care more about McCain's political philosophies and commitments than his sex life. (Plus, it's just plain gross to think of McCain in a sexual context anyway!)
Now, some of you Republicans out there will be quick to point out that this is just another example of the liberal media (as if!) slandering the right. But, um…, take another look at the source. The Washington fucking Post. One of the papers that's on your team.
All I'm saying is that liberal/conservative/whatever, the media only cares about one thing: sales. They don't care about reporting news that matters anymore. And that my friends, is not good for the country, it's citizens, or for the longevity of our democracy.
Read the article as it was originally printed after the jump.
Continue reading →